Cincinnati Antique Pianos
FRANK RENFROW PIANO TUNER-TECHNICIAN
YES I STILL DO PIANO TUNINGS! (this posted summer of 2016)
I HAVE NO PLANS TO RETIRE!
Best way to reach me is by email at
2nd Best way to reach me is to text or call my cell phone at:
859-653-1460
If you call me I may not answer my phone immediately
but will endeavor to answer your voicemail message
as soon as possible.
Serving Greater Cincinnati and Northern Kentucky.
Now celebrating 42 years in the profession
11 years with Baldwin Piano Company in Cincinnati, now independent.
Steinway dealership trained with state and federal certification.
Services Include:
EXPERT PIANO TUNING
REPAIRS, minor repairs and adjustments including:
pitch raises, action adjustments, action regulation, individual string replacements and pedal adjustments. Experienced in all facets of both vertical and grand piano regulation and repairs.
INCORPORATING a lifetime of experience in diagnosing and resolving problems with sticking and sluggish keys.
Pianos for sale:
PIANOS FOR SALE - I am now closing out my Antique Steinway Piano, Pianoforte and Fortepiano collection of considerable historic interest. I have only small number of pianos left in my collection, and I can give interested buyers, very good deals on these!
You can find the pianos I currently have for sale at: Antique Steinway Pianos & Early Pianofortes for sale
cincinnati piano tuner northern kentucky piano tuner technician service repair N KY piano Cincy piano Cinti piano Cinci piano Fort Thomas piano N KY Fort Mitchell piano N KY Anderson Twp piano OH Hyde Park piano OH Hebron piano N KY Burlington piano N KY Union piano N KY Clermont piano OH Indian Hill piano OH Montgomery piano OH Cold Spring piano N KY Terrace Park piano OH Independence piano N KY
I dabble in the sale of historic pianos, and usually have some interesting ones from the Victorian Era on hand. These comprise an interesting assortment of antique pianos that I have come across while adding to my early pianoforte collection. I particularly like to deal in historic pianos with unique features from distinguished names such as Steinway, Broadwood and Chickering.
Call Frank Renfrow at 859-431-1588
"Piano Cincinnati" Pianos For Sale:
An amazing and unique Early Victorian Piano Forte:
1840s John Broadwood and Sons Cabinet Upright Pianoforte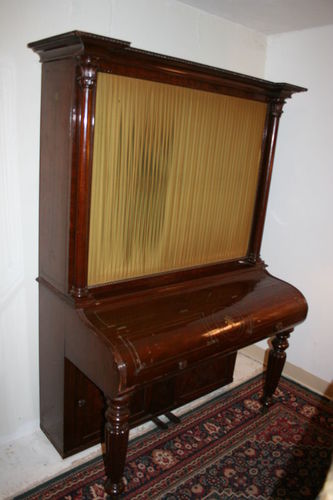 1840s John Broadwood and Sons (London) six octave cabinet piano forte, in highly-figured mahogany with ornamental ormolu inlay. The nameboard and key surround pieces are of rosewood. Parchment nameboard cartouche reads "John Broadwood and Sons / Makers to Her Majesty and the Royal Family / Great Pulteney Street / Golden Square / London ". Case mahogany with inlaid brass stringing. The serial number is 8008 which probably makes it from around 1844. Signed "Ormond" with the serial number on the back of the nameboard and on an inset in the first key. This makes me curious if this piano is from a special designer, as it is much more elaborately decorated than the similar piano shown at the following website (the estimatedd age on this site is about 20 years off):
There is another similar Broadwood cabinet upright in the Schureck Collection, I think the year given for this is also a bit early:
https://schureckcollection.wordpress.com/instruments/english-upright-grand-fortepiano-by-john-broadwood-london-1816/
As you can see from the following link, a Broadwood cabinet upright from 1821 has only five and a half octaves, the legs are more slender, and the fabric element is quite different (click on the thumbnail to find the link):
The case is in fair shape and the artistic embellishments are beautiful to behold. Someone apparently had started preparing it for rebuilding or making into a secretary. The soundboard, bridges and strings have been removed. The action is partially intact with 16 hammers being gone and 18 shanks broken. The keytops have been replaced with plastic (which have yellowed to appear almost like the real thing) and five of the keyfronts are missing. These are very rare in the USA, and most have been converted to furniture, so this one would be worth restoring for historic display. It would be perfect for a historic house or museum as it takes up only about a third of the floor space as a square grand. However, it would take a very motivated person and a tremendous amount of work to restore the piano to playability, thus the low price. This very rare early piano is no longer available.
For more information contact frankrenfrow@aol.com

The prices on this page are subject to frequent change, so keep checking and you might be able to lock in a low price. If you see a piano for sale as is, and would like to invest in additional repairs consequent to purchase, that can be arranged also.

If you are interested in early pianos from the late 18th and early 19th centuries, please check out my pianoforte gallery page. From time to time I have probably had one of the largest selections of early English piano fortes available for sale in North America.
Other pianos that have passed through the Piano Cincinnati shop (NO LONGER AVAILABLE) :
An 1855 Chickering Cocked-hat grand piano -
A very rare pre-civil war grand piano. In the American Empire-style with a beautiful Rosewood finish. Jonas Chickering's version of the old English bentside spinet in the form of a pianoforte. The perfect piano for mid-19th century music.
This classic piano is now settled into a new home, the J. Neely Johnson house in Sacramento, California:
http://en.wikipedia.org/wiki/J._Neely_Johnson_House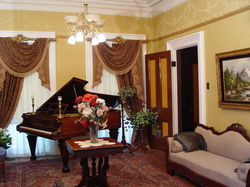 This was the home of the fourth governor of California who served from 1856 until 1858. The house itself is in the Neo-classical style and was built in 1853, a perfect match in era and fashion for this very special piano.
1850 G&H Barmore square grand piano

A beautiful historic pianoforte from the Antebellum period with a very fine rosewood finish and exquisite border detailing.
| | |
| --- | --- |
| 1904 Chickering Upright. This Chickering model must be the upright equivalent of the Chickering Quarter Grand (see below). It is unusually small for the period and has very finely carved neoclassical Ionic columnar supports. The ivory and ebony keytops on this piano are exceptionally nice. | |





1923 Baldwin Hamilton 5'3" grand piano.
D'Almaine and Co. English Cottage upright piano with birdcage style action, a mid-nineteenth century Victorian Era gem (1870 or older). Beautiful rosewood case and exquisite ivory and ebony keys with unusual circular insets.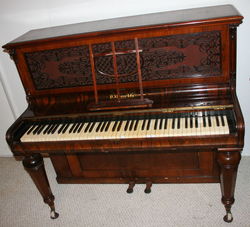 | | |
| --- | --- |
| 1867 Mathushek "Colibri" square grand piano. Frederick Mathushek was one of the finest American piano makers of the mid-nineteenth century, and his square grands were noted for their superior tone and design. | |
1908 Baldwin cabinet grand upright piano. One of the finest uprights made, especially good for jazz or blues.
1908 Chickering Quarter Grand - This is a very interesting baby grand with a full 88 notes but proportioned to fit well in a small or medium-sized room. It is just over five foot in length but about six inches narrower in width than other grand pianos. The aged mahogany finish is just right for the period.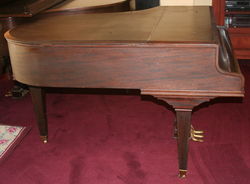 1910 Wurlitzer Lingard Upright Piano in beautiful highly-figured burl walnut, nice classic lines, a solid old upright.
Call Frank Renfrow at 859-431-1588
Email: frankrenfrow@aol.com